We ask you to use our website as a guide to the look and feel of arrangements. Due to supply chain constraints, some arrangements will need to be altered. Thank you in advance!
The Prayerful Farewell Rosary
Item #
S14-4469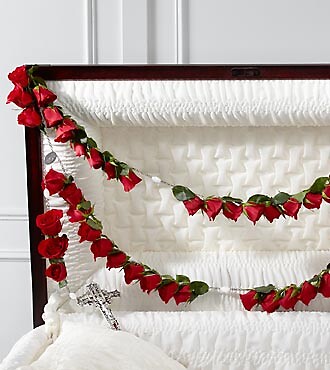 The Prayerful Farewell™ Rosary is a tribute to the faith and honor of the departed. Radiant red roses are elegantly displayed to form the look of a rosary, complete with a cross, meant to bedeck the inside of the casket, adding an elegant touch of color and beauty to their final farewell service.Approximately 100-inches in length.
50 rose heads, specify color and either fresh or silk roses